AIR MASIN FISHING VILLAGE, KUKUP, PONTIAN, MALAYSIA.

Air Masin, a very unique and a century old fishing village built entirely on stilts on the sea surrounded by water, is the southmost village found at the southwest tip of the Peninsular of West Malaysia, and suppose to be the southmost village found in the Continental of Asia. Located about 70 kilometres away from Johor Bahru, and 20 kilometres from Pontian, Air Masin has only one road to access by land. It may be reached by sea bording ferry leaving World Trade Center in Singapore daily. The entire village is linked by jetty also built on stilts on sea. This place is famous of its seafood. Its geographically and ideally shadowed by one of the world's largest mangrove swamp island - Kukup Island along which numerous fish-farms bob up and down on the surface of the Kukup Sea.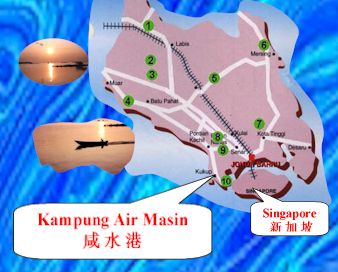 The Village is now famous and very popular not only to the Malaysian, but also to the Singaporean as well as foreign tourists. They come to Kukup to taste the famous, cheap and fresh seafood of all varieties of cooking. They wanted to witness for themselves life of the fishermen living in houses built on stilts. They wanted to get away from the hustle and bustle of city life. They wanted to admire the beautiful seascape and marvellous sunsets. They wanted to feel the cooling sea breeze touching tenderly and welcome them warmly. They wanted to see how fishes were caught and how they were reared. They wanted to get for themselves as well as their friends and relatives local varities, native products, watches and souvenirs at very low prices. They can sing Karaoke, barbecue, fishing, sightseeing and relax with only RM 60 - RM 100 (approxiamately US$15-25)per person all inclusive.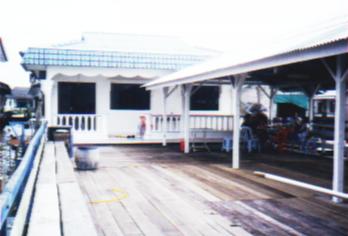 Air Masin, as you will see for yourselves here, is an old fishing village with history of a century old. Its unique of a fishing village built entirely on stilts above the sea, linked by concrete jetty from house to house. As recent statistic shown, this old fishing village is occupied by some 1,000 residents wholly from the Chinese race. Out of a total of 152 houses, about 30 are used as Holiday Chalets. The village will be flooded with flow of tourists on Saturdays and Sundays. Tourists especially from Singapore like to visit here very frequently because of the cheap expenditures, warm hospitality and many interesting places. Normally one will only have to spend about RM 60 - RM 100 in Kukup, and they will get a lots back: seafood dinner, barbecue, breakfast, lunch, sightseeing, karaoke, visiting fish farm in boat and etc. They can shop here very cheap watches, clothing, and native products.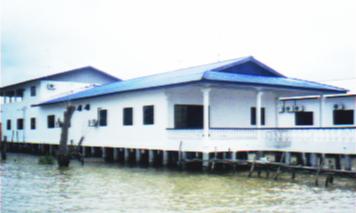 Air Masin as the locals prefer to address her is located at the southwest of Johore State. It is sometimes refered as the Southmost part of the Asia Continental and Peninsular of Malaysia. Approximately 70 kilometres from Johor Bahru, Kukup is about 20 kilometres from Pontian. You have to reach Pontian first, and get a taxi at a rate of not exceeding RM 2.00 per person.